Midland Metrology Ltd | Unit G3 Little Heath Ind. Estate | Coventry | CV6 7ND| England | Tel: +44 (0) 2476 638280
Email: sales@midland-metrology.co.uk
MH 100 Hardness Tester
Self contained Leeb Portable
Hardness Tester. The single
instrument includes the
impact device and display.
Clear large LCD Screen.
MH 180 Hardness Tester
S

tandard split set includes
seperate impact device and
hand held display. The display
has a clear LCD screen and
large capacity memory.
MH 310 Hardness Tester
P

ortable Leeb Hardness Tester
Set with seperate impact
device and display. The unit
has an inbuilt printer and USB
port for connection to a PC.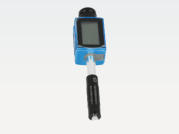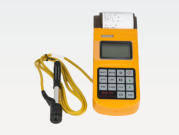 Portable Hardness Testers
Midland Metrology Ltd offer a complete range of both static and portable Hardness Testers. This
page features our unrivaled portable range of instruments adopting the Leeb method of test.
The Leeb test is a modern electronic version of the Scleroscope. It uses a carbide impact body
that is spring powered. An electronic sensor measures the velocity of the impact body as it
travels towards and away from the surface under test.

Peace of mind…
Portable Hardness Testers supplied by
Midland Metrology are issued with a
12 month warranty for complete peace
of mind.
MH 320 Hardness Tester
The MH320 Portable Hardness
Tester is the leader in its class,
similar in design to the MH310
but with enhanced accuracy
and stability. It also has an
inbuilt printer and is supplied
with a USB port for connection
to a PC. Analysis software is
also supplied as standard with
this model.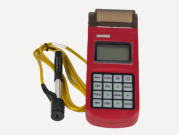 Hardness Tester Service and Calibration
Our commitment to you does not end once
you have bought a Hardness Tester from us,
we can offer service and calibration contracts
to ensure your hardness tester is maintained
in first class condition. Please contact us for
further details.


Standard Supplied Accessories
Every Portable Hardness Tester is supplied in
its own protective carry case. Included in the
case are the following.
•
Test Block
•
Impact Device and Display Unit
•
Instruction Manual
•
Charger/Adaptor Unit
•
Spare Printer Roll where appropriate