Midland Metrology Ltd | Unit G3 Little Heath Ind. Estate | Coventry | CV6 7ND| England | Tel: +44 (0) 2476 638280
Email: sales@midland-metrology.co.uk
Universal Hardness
Tester Electronic 570
HADL
A universal Hardness Tester
for Rockwell Vickers and
Brinell offers seven testing
forces and five indenters.
The results are displayed
automatically on the front
panel. This is a taller
machine to accommodate
longer components
Universal Hardness
Tester 570 HAD
EA universal Hardness
Tester for Rockwell Vickers
and Brinell. Offers seven
testing forces and five
indenters. The results are
displayed automatically on
the front panel
Universal Hardness
Tester HBRV-187.5
An electronic Dial Reading
Universal machine, it has
seven testing forces and five
indenters. It uses a
measuring microscope with
two magnifications.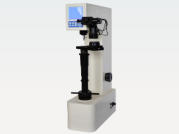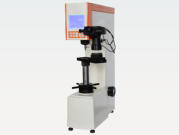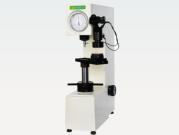 Universal Hardness Testers
We offer a wide range of Hardness Testers for a variety of applications. Hardness Testers can be
supplied new and reconditioned.
We cover the complete range of Hardness Testers including Rockwell, Brinell, Vickers and
Micro-Vickers and Portable Hardness Testers. All machines come complete with warranty and
calibration is available on-site

Peace of mind…
Universal Hardness Testers supplied
by Midland Metrology are issued with
a 12 month warranty for complete
peace of mind.
Universal Hardness Testers
Universal Hardness Testers offer different test
methods in one Universal Hardness Tester.
This allows significant cost and space savings
and flexibility.
Midland Metrology Ltd offer a competitive
range of Universal Hardness Testers. These
Universal machines can cover Rockwell
Regular and Superficial as well as Brinell and
Vickers scales in one single machine.
Hardness Tester Service and Calibration
Our commitment to you does not end once
you have bought a Hardness Tester from us.
We can offer on-site service and calibration
contracts to ensure your Hardness Tester is
maintained in first class condition. Please
contact us for further details..


Standard Supplied Accessories
Every Universal Hardness Tester supplied by
Midland Metrology Ltd comes complete with
an aluminium carry case containing the
following:
•
Large diameter work platens
•
Small diameter work platens
•
Vee Anvil
•
Five Test blocks
•
Five Indenters
•
Manual
•
Spirit level